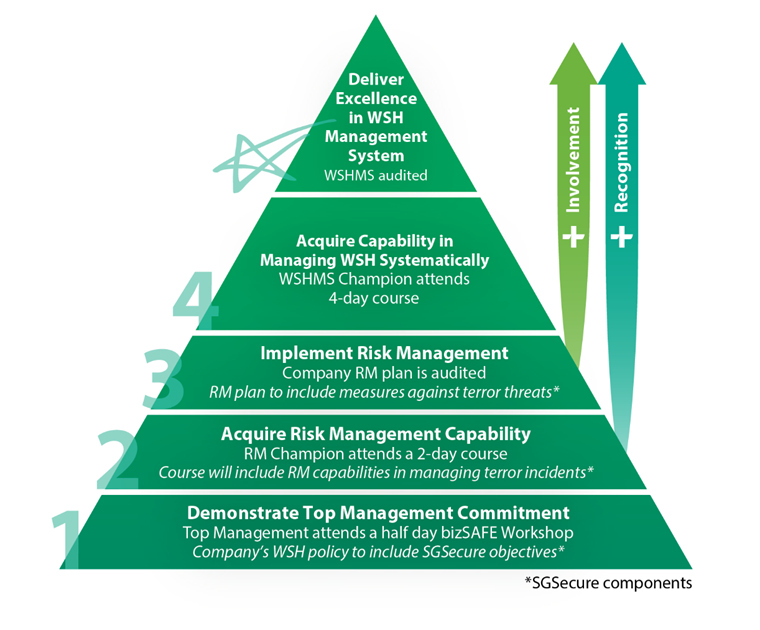 bizSafe SGSecure Contents (New)
bizSAFE SGSecure Contents (New):
With effect from 26 September 2017: INCORPORATION OF SGSECURE CONTENTS INTO bizSAFE COURSES
Safe, Healthy and Secure Workplaces
The threat of terrorism in Singapore is real. When a terror attack occurs in a workplace, business operations will be disrupted, employees may stop reporting to work, and lives may be lost. Security agencies have stepped up efforts to better protect Singapore, but every stakeholder needs to play a part. Companies need to prepare the workforce, protect the workplace and partner the community. The SGSecure national movement is our community and workforce's response to terror threats. It aims to sensitise, train and mobilise the workforce to play a part to prevent and deal with a terrorist attack. In the aftermath, we need to ensure the workforce remains cohesive, businesses recover quickly, and return to normalcy as soon as possible.
Risk Management to include security risks posed by terror threats at workplaces
With effect from 26 September 2017, managing of terror threats will be part of requirements in the bizSAFE 1, bizSAFE 2 and bizSAFE 3 Risk Management Audit.
How can SGSecure help you to protect your company from terror attacks?
VIGILANCE – Staying alert to ever-present security threats
Train workforce to be alert to unusual behaviour or items in surroundings
Know how to report those to authorities
COHESION – Staying united as one people during peacetime and in crisis
Imbue the need to cherish and safeguard Singapore's multi-racial and multi-religious social fabric
RESILENCE – Staying strong to be resilient and bounce back quickly in a crisis.
Enable workforce to protect themselves and others during an attack
Strengthen preparedness through exercises and skills training
Need to update your bizSAFE Risk Management Plan?